Muhammad Gunawan Yasni, SE.Ak., MM, CIFA, FIIS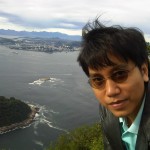 Born on September 17, 1969, Gunawan Yasni is member of National Sharia Board – Indonesian Council of Ulemas (MUI) and member of sharia supervisory / advisory board in several financial institutions. He has actively promoted sharia venture capital and sharia commercial papers in relations to mutual fund, in his previous post at Bahana Group. Iwan is active as consultant and senior lecturer in economics and sharia finance for several financial institutions, as well as educational institutions (Post Graduate). He has Investment Manager, Underwriter & Broker-Dealer Licences.
He is also a frequently quoted source in national media, both print and broadcast, as well as a published writer of topics related to economics and sharia finance. Several print and broadcast medias which have published, interviewed and / or made him regular contributor include Harian Republika, Harian Bisnis Indonesia, Harian Investor, Majalah Modal, Majalah Swa, Majalah Az Zikra, Metro TV, SCTV, TVRI and others. He has been co host of Sharia Economics Dialogue TVRI as well as host of Spiritual CEO TV One and Spiritual Executive 1 Metro TV. He has also been in many local as well as international conferences and trainings as speakers as well as trainers.
Gunawan graduated in Accounting from University of Indonesia, and obtained his Master Degree (Magister Management) in Finance from Prasetiya Mulya. He also obtained certification as Certified Islamic Financial Analyst from the Graduate Program in Middle East and Islamic Studies, University of  Indonesia. At present, he is member of senior lecture staff at the same institution, where he teaches sharia economics and finance. His sharia bilingual pocket book titled Sharia Economics & Finance: A Short Treatise & Its Application has been published. His 2nd book is Ekonomi Sufistik. Sharia Investment is his 3rd book. His 4th book Brief Thought on Islamic Finance is a trilingual book (English-Indonesian-Arabic).He is a Fellow of Islamic Insurance Society (FIIS) and holder of Advanced Level (Level IV) Banking Risk Management Certification.
Lahir pada 17 September 1969, Gunawan Yasni adalah anggota Dewan Syariah Nasional – Majelis Ulama Indonesia (MUI) dan anggota Dewan Pengawas / Penasehat Syariah di beberapa lembaga keuangan. Aktif mempromosikan modal ventura syariah dan instrumen keuangan komersial syariah dalam kaitannya dengan reksa dana, pada saat bekerja di Bahana Group. Iwan aktif sebagai konsultan dan pengajar senior dalam ekonomi dan keuangan syariah untuk beberapa institusi keuangan, sebagaimana untuk institusi pendidikan (Pasca Sarjana). Memiliki izin Bapepam sebagai Investment Manager, Underwriter & Broker-Dealer.
Sering menjadi narasumber dalam media nasional, cetak maupun elektronik sebagaimana penulis yang cukup dikenal untuk topik-topik berkaitan dengan ekonomi dan keuangan syariah. Beberapa media cetak dan elektronik yang telah mempublikasikan, menginterview dan / atau menjadikannya kontributor tetap antara lain Harian Republika, Harian Bisnis Indonesia, Harian Investor, Majalah Modal, Majalah Swa, Majalah Az Zikra, Metro TV, SCTV, TVRI dan lainnya. Dia adalah co host untuk Dialog Ekonomi Syariah TVRI sebagaimana host untuk Spiritual CEO TV One dan Spiritual Executive 1 Metro TV. Dia adalah juga pembicara dan instruktur dalam banyak seminar dan pelatihan lokal maupun internasional.
Gunawan lulus dari Fakultas Ekonomi dan menyandang predikat Akuntan dari Universitas Indonesia, dan memperoleh gelar Magister Management Keuangan dari Prasetiya Mulya. Dia juga memiliki sertifikasi sebagai Certified Islamic Financial Analyst dari Pasca Sarjana Kajian Timur Tengah & Islam Universitas Indonesia. Dia adalah dosen senior di institusi yang sama, mengajar ekonomi dan keuangan syariah. Buku dua bahasanya (Indonesia & Inggris) berjudul Ekonomi dan Keuangan Syariah: Pemahaman Singkat dan Penerapan Ringkas sudah diterbitkan. Buku keduanya adalah Ekonomi Sufistik. Investasi Syariah adalah buku ketiganya. Buku keempatnya Pemikiran Ringkas Keuangan Islam adalah buku tiga bahasa (Inggris-Indonesia-Arab). Dia adalah seorang Fellow di Islamic Insurance Society (FIIS) dan pemegang Sertifikasi Level Lanjutan (Level IV) Manajemen Risiko Perbankan.